As soon as I heard the bizarre and exciting news about Mark Wahlberg and Stephen Levinson picking up Coheed and Cambria's Amory Wars for a feature-film, I tried to picture how the characters would be cast.  The following is what me and my girlfriend came up with as our casting choices, and obviously this is just for fun.  Although with Wahlberg producing, who knows what kind of big names he could end up bringing to the table…!!??
Jeffrey Dean Morgan as Coheed Kilgannon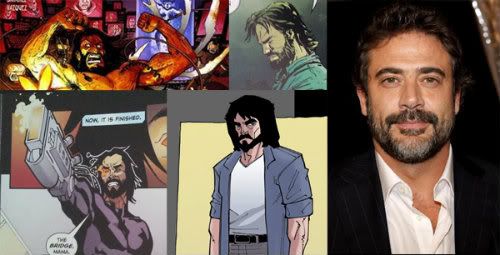 He looks the part, and can certainly play the part.  He was the Comedian in The Watchmen movie, which is based off of a comic book.  He was also quite the interesting fatherly figure in Supernatural.  Being involved in these types of projects makes him a pretty valid candidate, in my opinion.  And hey, if he wouldn't be into it, there's always the freakishly identical Javier Bardem!
Lynn Collins as Cambria Kilgannon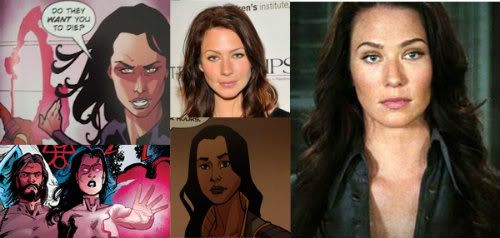 She is a dead ringer for this.  Her character in X-Men Origins: Wolverine had psychic abilities, much like Cambria.  She's also been involved in weird stuff like John Carter and True Blood, the latter being on HBO, which is the network where Wahlberg's hits Boardwalk Empire and Entourage reside (oooooooh!!!).
Kit Harington as Claudio Kilgannon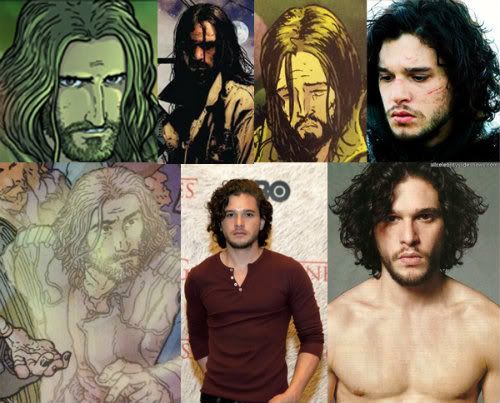 Looks pretty Claudish to me, and his character of Jon Snow on Game of Thrones (another HBO show, hmmm) is kind of similar in being somewhat of a rogue with lots of feelings and an underlying badassness.  DONE.
Michael Fassbender as Wilhelm Ryan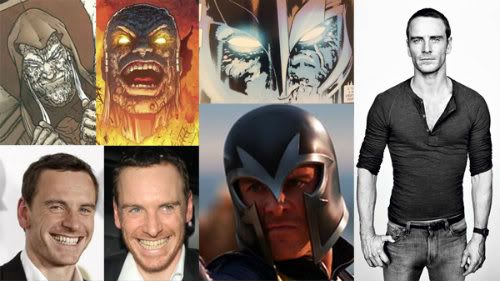 Because let's face it, WE COULD ALL USE MORE FASSY IN OUR LIVES.  His interpretation of Magneto showed off that he can be sinister and dark, and have you SEEN THAT SMILE?  We all love to hate him as a villain.  Also notable: we already know he can pull of super neat helmets.
Benicio del Toro as Jesse "Inferno" Kilgannon
He has the face of somebody who could lead a revolution.  His sarcasm, his intimidating face, his little eyes… need I say more?
Jennifer Lawrence as Ambellina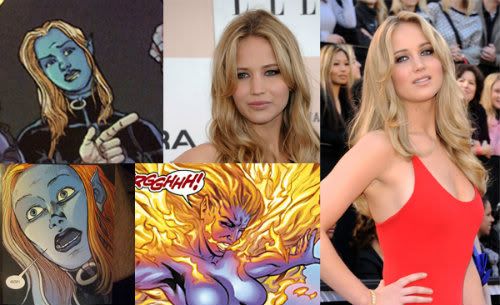 She pulls off the blue in X-Men: First Class (alonside Fassy… oooooohhh!), and she pulls off being the Girl on Fire in the Hunger Games.  KIND OF CONVENIENT.  She's badass, beautiful, fiesty, and won't take nothin' from NO man.  (Alicia would like me to add that she's her favorite.)
Idris Elba as Mayo Deftinwolf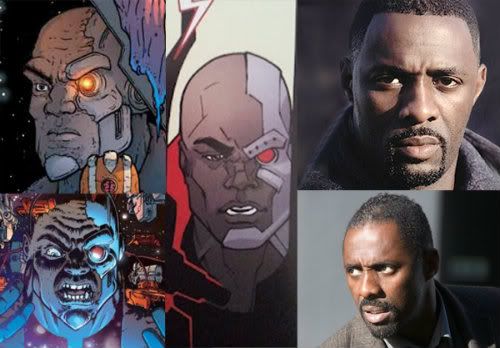 Idris is great.  He's been in a comic book movie (Thor), and also a recent sci-fi thriller (Prometheus, along with Fassy…. hmmmmm).  He simply fits and I want him to do this I just do.
Janina Gavankar as Mariah Antillarea
All I can say is she definitely looks the part.  Her acting on True Blood (on HBO along with Lynn Collins zomgz so many connections) is alright for her small role.  I can also see her leading a revolution and think it would just be great.
Benedict Timthy Carlton Cumberbatch as Star Cecil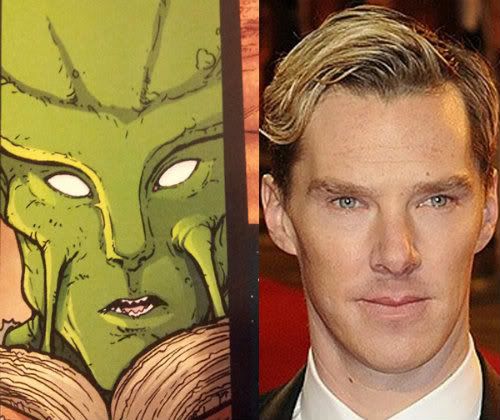 HAVE YOU SEEN THAT DUDE'S FACE??  I want Sherlock's voice to come out of that green alien and I KNOW that it would be the smallest and most precious role.  Also he will be starring in the new Star Trek sequel, which is rather spacey and appropriate.
And finally, Samuel L. Jackson as Al the Killer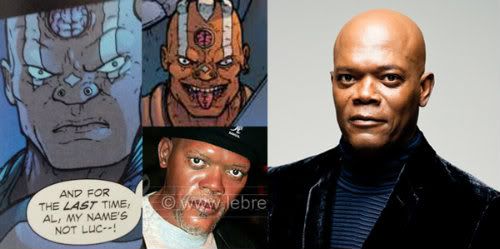 BECAUSE.
Thank you so much for paying attention to this silly post that we've put so much blood sweat and tears into - Submitted by loganjamesn